TCL has launched a trio of premium smart TVs in India. All three models come with a boatload of premium features. The TCL C825, C728 and C725 offer unique features and are tailor-made for different target groups. For example, the TCL C825 and C725 come with a built-in webcam, allowing them to double as a video conferencing device. On the other hand, the TCL C728 is more of a gamer-oriented product designed for next-generation consoles like the PS5 and Xbox Series X. The TCL C825, C728 and C725 are priced on the higher end of the spectrum, but that's ok given their specifications.
TCL C825 Mini LED 4K TV Price in India and Specifications
The TCL C825 is available in 55-inch and 65-inch screen sizes. They cost Rs 114,990 and Rs 149,990 respectively. Both models have a 4K Mini LED panel clocked at 60Hz. However, that can be scaled up to 120Hz thanks to a special MEMC chip. Other features include Dolby Vision HDR and Dolby Atmos. The included HDMI 2.1 port allows gamers to play 4K gamers at high frame rates. The TV also comes with a 1080P magnetic magic camera that works with Google Duo and Zoom Meet. Audio is handled by an integrated 2.1 channel ONKYO Soundbar.
TCL
C728

QLED 4K TV price in India and specs

The TCL C728 comes in three screen sizes: 50, 55 and 65 inches. They cost Rs 64,990, Rs 72,990 and Rs 99,999 respectively. The TCL C725 smart TV uses a 4K QLED panel, which is essentially still LCD. The main features are Dolby Vision, HDR 10+ and AiPQ Engine. The TV comes with a MEMC chip and an HDMI 2.1 port. The TV is integrated with the ONKYO soundbar with Dolby Atmos certification. It also offers hands-free voice control 2.0 for better and faster speech recognition when it comes to searching and playing music, shows, movies or opening an app.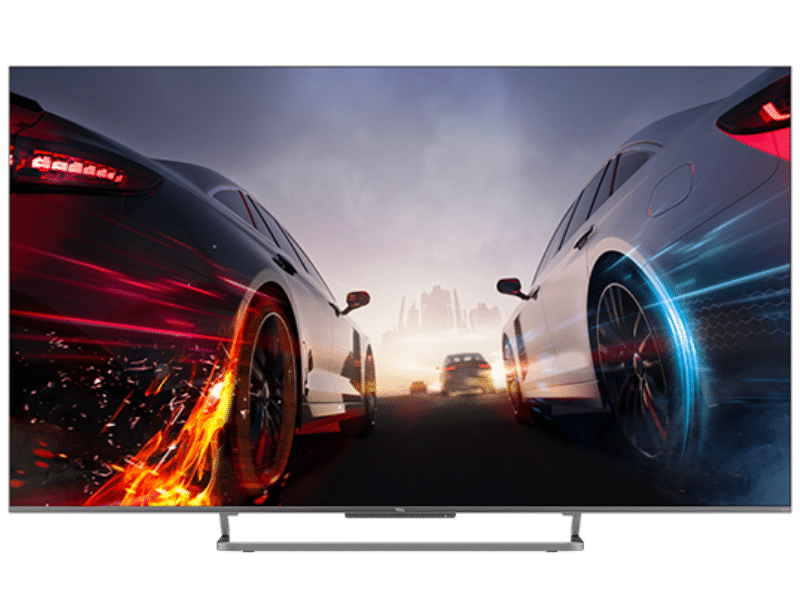 TCL
C725

QLED 4K TV price in India and specs

Finally, the TCL C725 comes in three variants: 55-inch, 65-inch and 75-inch. They cost Rs 79,990, Rs 102,990 and Rs 159,990 respectively. The TV uses the same 4K QLED panel used on the C728 and comes with more or less the same features. However, it also adds gaming-focused features such as Variable Refresh Rate (VRR), Auto Low Latency Mode (ALLM), eARC (Audio Return Channel).